Fosters Skip Hire in the Derby and Nottingham Areas
Fosters Waste Disposal and Cleaning Services Ltd can provide a professional and reliable skip hire service in the Derby, Nottingham and surrounding areas.
Our services include:
Mini Skips
Midi Skips
Skips are available to the trade and domestic users
We offer a prompt delivery and collection service
If you need rubbish removing quickly, we offer a wait and fill service
Our prices quoted include delivery and collection.
How to Choose the right Skip
If you are a commercial client, chances are, you have hired a skip many times and know what size will suit the project from our sizes available which are, a mini, 2 yard, 4 yard, 6 yard and an 8 yard. However, if you are a domestic client with either household or garden rubbish to remove, you may not be sure of what to order. We are more than happy to advise you over the telephone, but to help you get started, take a look at our quick guide below.
As it can be quite difficult to visualise how big a skip capacity actually is, we have included how many full large black bin bags it would hold to help you decide on what size to choose.
Also, if you are new to hiring a kip, please be aware that to place a skip on a road side, a permit will be required from the local council. We can also help you organise this. If a skip can be placed on your driveway off the road, you will not need a permit, this is worth considering when you choose the size of skip.
Mini Skip – From £90.00*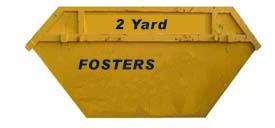 Our Mini Skips are ideal for small domestic or commercial projects where a low volume of waste is anticipated. They are very compact and can usually fit on a driveway that can take one car. However,  if required we can help arrange permits for it to be placed on the road.
Mini Skips are suitable for Domestic or small Business Project
Suitable for low volume waste projects
*Mini Skips can be hired from £90.00 Please note pricing will depend on delivery location.
---
4 Yard Skips – From £140.00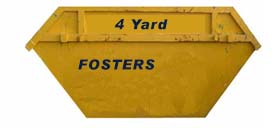 Larger than the mini skips, this skip is still a convenient compact size. It can be used for all light and heavy waste types. It is ideal for smaller household and garden jobs. It is popular with the building trade as it is an ideal size for kitchen and bathroom refits.
Ideal for larger Domestic projects or smaller Business Project
Please note pricing will depend on delivery location.
---
Skip Filling Guide 
Once you have a skip, it is tempting to keep throwing items in until the contents are higher than the sides of the skip. Our driver then comes along and refuses to take it unless you remove some items! The drivers are not being difficult, they are following the law as it is a legal requirement to only fill a skip so that the content are level with the top of the skip itself. If a skip is overloaded, the driver collecting it would be breaking the law if they carried the skip onto the highway. Likewise, using boards around the side of the skip in an attempt to increase its capacity is illegal. Likewise, a skip with too much weight in it can cause the lorry to tip when loading the skip or cause damage to the truck on the way back to the depot.
To prevent wasted space within the skip, we recommend that any large bulky items you have to dispose of are broken down into smaller pieces and placed in the bottom of the skip. Always place heavier items on the bottom of the skip as it keeps a low centre of gravity for the skip which is safer to transport. Fill gaps in around the sides with smaller items. If you have any questions or doubts, please do not hesitate to call us to discuss your waste removal requirements in the Derby and Nottingham areas.
Experience has taught us that it is better for our customers to hire a skip that they won't completely fill than to have a skip that is too small – and end up needing to hire a second skip, at further cost. You can always ask your neighbours to contribute to the cost if they wish to help fill the skip!
Our drivers are all highly trained and comply with relevant UK standards and are fully insured. We provide can provide a reliable and regular service for your business in the Nottingham and Derby areas.
For a FREE quotation, call us on 07973 898 126
---